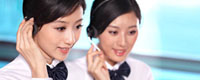 Name: Jason Chen
Tel: +86-755-83607755
Fax: +86-755-83607755
Mobile: +86-135 1042 4135
E-mail: info@ctek-industry.com
Add: Room 13A, Block B, Duhui Building, N. Huaqiang Road, Futian District, Shenzhen, China
Skype: sheng0306
MSN: sheng0306@hotmail.com
QQ: 429034874





Product name : 535000-003 RIBBON

Item : 535000-003

Feature : YMCKT RIBBON

Origin : U.S.A
Details:
Datacard 535000-003 YMCKO ribbons are used for printing a combination of full-color images and one-color text or barcodes, and feature an Earth-friendly biodegradable core.
YMCKO ribbons consist of Y (yellow), M (magenta), C (cyan), K (black resin) and O (clear overlay) five panels.
1. Yellow (Y), magenta (M) and cyan (C) panels for printing a full spectrum of colors by combining the colors using varying degrees of heat.
2. The K panel is a black resin panel, typically used for printing text and barcodes.
3. The O panel is a thin, clear protective overlay.
4. Compatible with CD and CP series printers