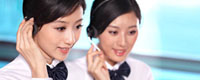 Name: Jason Chen
Tel: +86-755-83607755
Fax: +86-755-83607755
Mobile: +86-135 1042 4135
E-mail: info@ctek-industry.com
Add: Room 13A, Block B, Duhui Building, N. Huaqiang Road, Futian District, Shenzhen, China
Skype: sheng0306
MSN: sheng0306@hotmail.com
QQ: 429034874





Product name : 084051 RIBBON

Item : 084051

Feature : YMCK COLOR RIBBON

Origin : U.S.A
Details:
Fargo's 84051 YMCK ribbon delivers state-of-the-art performance when printing cards with your Fargo HDP5000 printer. When used with Fargo's 84053 HDP film, this ribbon produces 500 high quality monochrome and color prints.
· YMCK full color ribbon with black resin panel
· Compatible with Fargo HDP5000 printers
· 500 images
· Must be used with Fargo 84053 HDP Film.