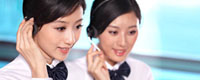 Name: Jason Chen
Tel: +86-755-83607755
Fax: +86-755-83607755
Mobile: +86-135 1042 4135
E-mail: info@ctek-industry.com
Add: Room 13A, Block B, Duhui Building, N. Huaqiang Road, Futian District, Shenzhen, China
Skype: sheng0306
MSN: sheng0306@hotmail.com
QQ: 429034874





Product name : 81733 RIBBON

Item : 81733

Feature : YMCKO RIBBON

Origin : CHINA
Details:
Fargo 81733
ribbons produce 250 images. The
Fargo 81733
is designed to work seamlessly with C10, C11, C15, C16, C25, Pro-L, Pro-LX, Persona, Persona II, PersonaPlus Cheetah, Cheetah II, Pro 4250, and Quatro Printers.
Fargo 81733
feature a special back coating used to extend the life of your print head.


· Full-Color (YMCKO) Ribbon with Black Resin & Clear Overlay
· It is capable of producing 250 card prints