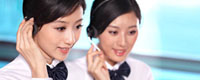 Name: Jason Chen
Tel: +86-755-83607755
Fax: +86-755-83607755
Mobile: +86-135 1042 4135
E-mail: info@ctek-industry.com
Add: Room 13A, Block B, Duhui Building, N. Huaqiang Road, Futian District, Shenzhen, China
Skype: sheng0306
MSN: sheng0306@hotmail.com
QQ: 429034874





Product name : Evolis A5002 Compatible Cleaning Card Kit

Item : A5002

Feature : compatible

Origin : China
Details:
Evolis PrinterClean A5002 keeps the
card transport rollers
working smoothly on
All Evolis Card Printers
. Evolis A5002 Cleaning Kit
contains a pack of
50 pre-saturated
cleaning cards
that are individually-wrapped in tear-open pouches.

Keeping your Evolis card printer clean saves you money by extending the life of your card transport rollers. Fortunately, proper maintenance of your Evolis printer takes very little time.
· Evolis A5002 PrinterClean Card Printer Cleaning Kit
· Fits several Evolis card printers, including Evolis Tattoo, Pebble, Dualys, Securion and Quantum printers.
· Includes 50 pre-saturated cleaning cards packaged in individual tear-open pouches (for card transport rollers)