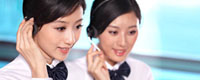 Name: Jason Chen
Tel: +86-755-83607755
Fax: +86-755-83607755
Mobile: +86-135 1042 4135
E-mail: info@ctek-industry.com
Add: Room 13A, Block B, Duhui Building, N. Huaqiang Road, Futian District, Shenzhen, China
Skype: sheng0306
MSN: sheng0306@hotmail.com
QQ: 429034874





Product name : 800015-440 RIBBON

Item : 800015-440

Feature : YMCKO RIBBON

Origin : U.S.A
Details:
The
Zebra 800015-440
TrueColours™ ID printer ribbons will ensure optimum performance from your iSeries Zebra card printer, no matter what kind of cards you're printing! These intelligent i-Series ribbons utilize
RFID technology to constantly communicate with your printer for automatic driver configuration and up to the moment ribbon status information.
Zebra 800015-440 TrueColours™ ribbons offer guaranteed compatibility and wrinkle-free operation for consistently high quality operation, card after card. Zebra 800015-440 YMCKO ribbons utilize dye-sublimation technology, and are capable of producing up to 200 images.
· Zebra 800015-440 True Colours™ i-series 5-Panel YMCKO Printer Ribbon
· Full Color (Dye Sublimation) YMCKO ribbon with clear overlay
· Produces up to 200 images per roll