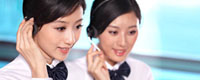 Name: Jason Chen
Tel: +86-755-83607755
Fax: +86-755-83607755
Mobile: +86-135 1042 4135
E-mail: info@ctek-industry.com
Add: Room 13A, Block B, Duhui Building, N. Huaqiang Road, Futian District, Shenzhen, China
Skype: sheng0306
MSN: sheng0306@hotmail.com
QQ: 429034874





Product name : 800033-840 RIBBON

Item : 800033-840

Feature : YMCKO RIBBON

Origin : U.S.A
Details:
Zebra 800033-840 YMCKO card printer ribbon produces full-color photo ID cards on the Zebra ZXP3 ID printer.
The Zebra 800033-840 can

produce up to 200 card prints

with sharp four-color images and text and barcodes, while adding a clear overcoat layer that protects your cards from abrasion and wear and tear.



Zebra 800033-840 YMCKO is a

Load-N-Go™ ribbon cartridge that easily drops into your Zebra ZXP3 printer and includes an integrated card cleaning roller, automatic set-up and low ribbon warning indicator.
Zebra 800033-840 True Colours™ ix-series 5-Panel YMCKO Printer Ribbon

Full Color (Dye Sublimation) YMCKO ribbon with clear protective overlay

Produces 200 images per ribbon

Compatible with Zebra ZXP3 and P2xx Card Printers