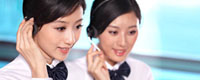 Name: Jason Chen
Tel: +86-755-83607755
Fax: +86-755-83607755
Mobile: +86-135 1042 4135
E-mail: info@ctek-industry.com
Add: Room 13A, Block B, Duhui Building, N. Huaqiang Road, Futian District, Shenzhen, China
Skype: sheng0306
MSN: sheng0306@hotmail.com
QQ: 429034874





Product name : P110i COLOR RIBBON

Item : 800015-940

Feature : YMCKO RIBBON

Origin : U.S.A
Details:
Zebra 800015-940 5 Panel Color Ribbon cards use DyeSub/Resin ID printing technology to produce 200 full-color cards with a clear protective overlay - per roll! These intelligent i-series ribbons utilize RFID technology to constantly communicate with your printer for automatic driver configuration and up to the moment ribbon status information.

Zebra 800015-940 TrueColours™ ribbons offer guaranteed compatibility and wrinkle-free operation for consistently high quality operation, card after card.

With all of Zebra's iSeries card printer ribbons, you will get brilliant, photo quality images and sharp monochrome barcodes and clear text, with colors that span the spectrum and exceptional color and grayscale images. These i-series ribbons feature a unique silic
one based back coating that allows smooth operation while protecting your print head. Zebra's easy load, patented design helps eliminate slippage at the take up reel, while a grooved spindle ensures hassle-free ribbon installation.
Zebra 800015-940 True Colours™ i-series 5-Panel YMCKO Printer Ribbon

Full Color (Dye Sublimation) YMCKO ribbon with clear protective overlay

Produces 200 images per ribbon