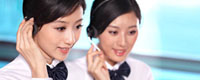 Name: Jason Chen
Tel: +86-755-83607755
Fax: +86-755-83607755
Mobile: +86-135 1042 4135
E-mail: info@ctek-industry.com
Add: Room 13A, Block B, Duhui Building, N. Huaqiang Road, Futian District, Shenzhen, China
Skype: sheng0306
MSN: sheng0306@hotmail.com
QQ: 429034874





Product name : QUANTUM 2 PRINTER

Item : QUANTUM 2

Feature : Dual Sided Printing

Origin : FRANCE
Details:
The Evolis Quantum 2 is a

high-volume, automated card printer

brought to you by Evolis. It

is the ideal system for an organization that needs to

personalize plastic cards in large quantities. From card manufacturers to service bureaus, from banks to universities, Quantum 2 provides the flexibility to meet any customer requirement, in any volume, and at any time.

The Evolis Quantum 2, features automated printing that works for you, even when you're out of the office! Simply load up the 500 capacity card hopper, cue up your print job on your Windows printer, and the amazing Quantum 2 will work through the night to produce brilliant, high-resolution color or monochrome cards.

General printer specifications for the Evolis Quantum Card Printer
· Dual-sided color printing module
· 300 dpi print head (11.8 dots/mm)
· USB & Ethernet ports
· 16 MB RAM allowing two card storages (front & back)
· Detachable & interchangeable input & output hoppers with a capacity of 500 cards (0.76 mm or 30 mil)
· Flip-over station for dual-sided printing
· Detachable encoding module
· 2-line LCD display and status LED for printer and encoding unit monitoring
· Locking system to secure access to blank cards, ribbons, films and rejected cards.
· Reject tray for 20 cards (0.76 mm or 30 mil)
· Printer color: Aluminium body & Black plastic covers.
· ROHS compliant
Print modes
· Color dye sublimation and monochrome thermal transfer
· Enhanced color management system for top quality pictures
· Edge-to-edge printing
· Dual-sided printing
· Integrated ribbon saver for monochrome printing
· Integrated ½ Panel YMCKO picture management
· Encoding module
· Reversible unit for top & bottom magnetic & smart encoding
· HiCo/LoCo Magnetic stripe encoder ISO 7811 or JIS2 ?
· Smart contact station – ISO 7816-2
Printing speed
· Color 1 side (YMCKO): more than 150 cards/hour
· Color 2 sides (YMCK0-K): 115 cards/hour
· Monochrome 1 side full card: more than 1000 cards/hour
Supported platforms
· Windows 7 (32 & 64 bits), XP and Vista (32 & 64 bits)
· Mac OS X v10.4 and higher (upon request)
· Linux (upon request)
Software supplied
· CardPresso XXS Software – Basic card design software.
· Compatible with Windows™ 7, XP and Vista 32 & 64 bits
· Connection to Microsoft™ Excel databases
Warranty
· Printer, print head: 1-year warranty, limited to 500 000 passes, subject to observance of specific conditions and use of Evolis genuine consumables.