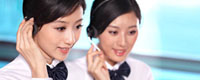 Name: Jason Chen
Tel: +86-755-83607755
Fax: +86-755-83607755
Mobile: +86-135 1042 4135
E-mail: info@ctek-industry.com
Add: Room 13A, Block B, Duhui Building, N. Huaqiang Road, Futian District, Shenzhen, China
Skype: sheng0306
MSN: sheng0306@hotmail.com
QQ: 429034874





Product name : SECURION PRINTER

Item : SECURION

Feature : Dual Sided Printing/Lamination

Origin : FRANCE
Details:
Evolis has created the

powerful Securion ID card printer with laminator for the

highest security applications. A wide range of encoding options, including magnetic stripes and SMART cards, can easily be added to this versatile printer which already includes a number of key security features --single and dual-sided printing, lamination, color and monochrome capabilities, and super fast print speeds.

From simple ID cards to fraud-proof security, the Securion is perfect for organizations that require resilient tamper-resistant identification cards such as government identity cards, drivers' licenses, welfare and health cards, and facility access cards.
Cards produced by the Evolis Securion enjoy the extra protection of lamination. After printing, the Securion applies a protective filmover the surface with hot roller technology using either a continuous layer of varnish or a patch.

· Print Mode-- Color dye sublimation and monochrome thermal transfer; Enhanced color management system for top quality pictures; Dual-sided and edge-to-edge printing

· Lamination Mode-- Full card varnish and patch films; Dual-sided lamination; Speed range: 2 mm/s to 18 mm/s; Temperature range: 100°C to 180°C

· Encoding options-- HiCo/LoCo Magnetic stripes

· Printer Features-- Color printing module and laminating unit; 16 MB RAM allowing two card storages (front & back); Flip-over station for dual-sided printing or laminating; Detachable feeder with a capacity of 100 cards (0.76 mm or 30 mil); Output hopper with a capacity of 100 cards (0.76 mm or 30 mil); Reject box for 15 cards (0.76 mm or 30 mil); Two-line LCD display and a status LED; Locking system to secure access to blank cards, ribbons, films and rejected cards; Support for a Kensington® locking system
· Lamination and Print Speed -- YMCK-K + patch 1.0 mil single-sided is 85 and 105 cards/hour; YMCK + patch 1.0 mil single-sided is 85 and 120 cards/hour
· Resolution-- 300 dpi
· Drivers-- Windows 7 (32 & 64 bits), Vista (32 & 64 bits), XP; Mac OS X
· Warranty-- Printer, lamination module, print head, and lamination hot roller: a 2-year warranty with a maximum of 100 000 inserted cards, which ever comes first*
· PC attachment-- USB & Ethernet TCP-IP connection