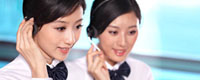 Name: Jason Chen
Tel: +86-755-83607755
Fax: +86-755-83607755
Mobile: +86-135 1042 4135
E-mail: info@ctek-industry.com
Add: Room 13A, Block B, Duhui Building, N. Huaqiang Road, Futian District, Shenzhen, China
Skype: sheng0306
MSN: sheng0306@hotmail.com
QQ: 429034874





Product name : DTC1000 CARD PRINTER

Item : DTC1000

Feature : Single/Dual Sided Printing

Origin : U.S.A
Details:
The FARGO DTC1000 card printer from HID Global is simple to use and perfect for smaller organizations that need to print employee badges, member ID cards, loyalty cards or student IDs. Key features of the DTC 1000 printer include:
Compact design for maximum flexibility

Simple to maintain with easy-loading ribbon cartridge that includes a printer cleaning roller

Color-changing status buttons

Emedded badging application

Rewrite capable

USB or optional Ethernet connectivity

Input hopper holds 100 plastic cards

Optional Dual-side printing

Optional magnetic stripe, 125 kHz, 13.56 MHz, and contact chip encoding
The DTC 1000 features a sleek modular design that is easily upgradable with many card printing and encoding options, which makes it a great choice for organizations that need to print custom ID badges at any budget.

Easy to use, the Fargo / HID DTC1000 can start working for you right out of the box. Just plug the DTC1000 into your USB or (optional) Ethernet connection to create secure, great looking ID cards or badges within seconds. The easy-loading ribbon cartridge already includes printer cleaning ribbon for easy printer maintenance, and the DTC1000 interface is color-coded for easily-read status notifications.

Best of all, the Fargo DTC1000 comes pre-loaded with a basic ID card design application—Swift ID—that will help you design professional-looking ID badges immediately through your Web browser.

Like all Fargo DTC card printers, the Fargo DTC4000 is built with Genuine HID™ technology and is fully interoperable with HID's top-quality products. ID Card Group carries the full line of Fargo by HID DTC printers, ribbons and supplies - including the DTC1000, DTC 4000 & DTC4500 - at the lowest prices guaranteed. All Fargo DTC printers feature:
Swift ID™ card design application is pre-loaded into every Fargo DTC card printer and easily accessed through your Web Browser

Modular design of each Fargo DTC printer lets you to easily add various levels of card printing and encoding options and offers a flexible printer footprint to fit a variety of office environments

One-Pass printing and encoding tasks allow your ID cards to be printed AND encoded in one pass with a single USB or Ethernet connection between the Fargo DTC printer and your computer

Intuitive Design including color changing status buttons and easy-load cartridge ribbons require minimal maintenance and training

Rewrite card printing technology is included with all Fargo DTC card printers, great for transit card and visitor badges, so your operation can save money on consumables, while reducing waste.

Energy-Star Rated -- As of May 2011, Fargo DTC1000 became Energy-Star Rated to help save the environment as well as your money!
Did you know Fargo DTC1000 also comes in a monochrome version? The DTC1000M offers single-color card printing that renders clear photo images, bar codes and alphanumeric data on one side of a standard CR-80 or CR-79 plastic card. It offers a cost-effective card issuance option for organizations--such as casinos, financial services firms, small businesses and retailers--that want to print using one color on their ID cards, membership cards or loyalty cards. Fargo DTC1000M also works great for producing low-cost temporary ID badges.
Most Popular Fargo DTC1000 Printer Configurations:
Fargo 47000: Single-Sided DTC1000 card printer

Fargo 47010: Single-Sided DTC1000 card printer with Magnetic Encoder