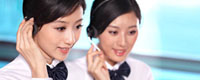 Name: Jason Chen
Tel: +86-755-83607755
Fax: +86-755-83607755
Mobile: +86-135 1042 4135
E-mail: info@ctek-industry.com
Add: Room 13A, Block B, Duhui Building, N. Huaqiang Road, Futian District, Shenzhen, China
Skype: sheng0306
MSN: sheng0306@hotmail.com
QQ: 429034874





Product name : HDP5000 CARD PRINTER

Item : HDP5000

Feature : Single/Dual Sided Printing

Origin : U.S.A
Details:
The
Fargo
HDP5000 Duplex Badge Printer
offers Fargo's High Definition Printing (HDP) technology—delivering the highest image quality—at a price that a broad range of organizations can afford. Backed by a lifetime printhead warranty and a two-year printer warranty, the Fargo HDP5000 Duplex offers simple operation with minimal training, easy-loading cartridges for cards, ribbons and overlaminates, and a high reliability and durability that will lower your total cost of ownership.

High Definition Printing™ uses retransfer printer technology and is ideal for printing the most commonly used technology cards, including contact and contactless smart cards, and clamshell proximity cards. It is the most advanced method of card printing available, using dye-sublimation technology to print crisp, 300-dpi images on the underside of HDP® Film developed by Fargo. The HDP5000 Film fuses to the surface of your cards, conforming to ridges and indentations formed by embedded electronics, and provides an extra layer of card durability and security. If a counterfeiter tries to peel the film apart in an attempt to alter the card, the printed image essentially destroys itself. High Definition Printing™ can also print right up to the edge of exposed smart card contacts. Conventional dye-sub printers must leave clear space around contact pads to avoid print head damage.

Colleges, loyalty and membership programs, businesses and corporations, health care facilities and government agencies are all expanding their use of multifunction smart cards. The Fargo HDP5000 Duplex Badge Printer is perfect for this type of customization because it offers so many options including single- or dual-sided lamination and card encoding technologies. Its multifaceted encoding options will allow you to produce proximity and smart cards according to your specific needs.

ID Badge production is no longer limited to stand-alone stations. A retail chain, for example, can distribute card issuance over a network to any location. On a corporate campus or university, an array of printer/encoders can be set up in a central location for high-volume production. The Fargo HDP5000 Duplex printer is the ideal choice for countless scenarios. Its Ethernet port and internal print server provide the connectivity needed for networked operations.
Most Popular Fargo Dual-Side HDP5000 Printer Configurations:
Fargo 89640: Dual-Sided HDP5000 badge printer
Fargo 89641: Dual-Sided HDP5000 badge printer with Magnetic Encoder
Fargo 89660: Dual-Sided HDP5000 badge printer with Single-Sided Laminator
Fargo 89661: Dual-Sided HDP5000 badge printer with Single-Sided Laminator and Magnetic Encoder
Fargo 89680: Dual-Sided HDP5000 badge printer with Dual-Sided Laminator
Fargo 89681: Dual-Sided HDP5000 badge printer with Dual-Sided Laminator and Magnetic Encoder