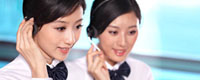 Name: Jason Chen
Tel: +86-755-83607755
Fax: +86-755-83607755
Mobile: +86-135 1042 4135
E-mail: info@ctek-industry.com
Add: Room 13A, Block B, Duhui Building, N. Huaqiang Road, Futian District, Shenzhen, China
Skype: sheng0306
MSN: sheng0306@hotmail.com
QQ: 429034874





Product name : FARGO C50 PRINTER

Item : C50

Feature : Single Sided Printing

Origin : 24 sec/card
Details:
Fargo C50 by HID Global offers a
simple and reliable ID card printing solution
at an affordable price. The C50 printer is so easy to use and comes bundled with hardware, software and supplies so you can create personalized IDs for membership and loyalty cards, casino employee IDs, or visitor badges in just about five minutes.
Backed by a global two-year warranty, Fargo C50 printer boasts a small footprint and rugged design that makes it easy to fit in any setting. Designed for efficiency, this basic Fargo card printer comes with a built-in basic badge application, automatic printer health monitoring and diagnostics tool, and EZ printer ribbon with cleaning roller. With all of these handy features, Fargo C50 requires virtually no maintenance.

Fargo C50 card printer features include:
Edge-to-edge printing in full-color or monochrome (single color) on CR-80 (standard credit card) or CR-79 Adhesive Back cards

All-in-one printer ribbon and card cleaning cartridge that simplifies printer maintenance

Built-in Swift ID badge application that allows you to create ID badges

Compatibility with HID Asure ID software for more complex card designs and ID data capabilities

Built-in FARGO Workbench printer maintenance and diagnostic software that ensures optimal performance with little user monitoring

Intuitive design with instant, system status updates through color-changing buttons

Trusted Fargo card printer brand by HID Global and backed by a 2 year warranty

Energy Star Rating for an energy and cost-efficient card print solution

Affordable bundles of C50 printer hardware, software & supplies let you print plastic ID cards immediately.