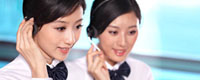 Name: Jason Chen
Tel: +86-755-83607755
Fax: +86-755-83607755
Mobile: +86-135 1042 4135
E-mail: info@ctek-industry.com
Add: Room 13A, Block B, Duhui Building, N. Huaqiang Road, Futian District, Shenzhen, China
Skype: sheng0306
MSN: sheng0306@hotmail.com
QQ: 429034874





Product name : DTC4500 CARD PRINTER

Item : DTC4500

Feature : Dual Sided Printing

Origin : U.S.A
Details:
The Fargo DTC4500e printer and encoder is the workhorse of HID Global's Fargo direct-to-card printer line. With its heavy-duty engine and high-performance design, the printer is the number one choice for large corporations and government institutions which need a robust and reliable way to personalize and program technology cards in high volumes for more sophisticated and secure card applications. The Fargo DTC4500e features:
· High volume printing technology - Uses high capacity 200 card dual-input card hopper and card printer ribbons.
· Maximum security, future-proof versatility - Guaranteed secure printing with built-in printer password protection and fluorescent ribbons for Ultra-Violet (UV) printing. Optional locking hoppers protect blank pvc card stock and printed/encoded cards in-house.
· Versatile Modular Design – With a sleek modular design that easily incorporates equipment upgrades, the Fargo DTC4500e can grow with your card printing needs. The DTC4500e design also allows for a small office footprint, including the optional same-side input/output card hopper and moveable SmartScreen display, so it can fit into the tightest office spaces. Contact an ID Expert at 877-868-0012 to order your DTC4500e with same-side input/output hoppers.
· Technology options - Field-upgradeable modules allow you to not only print crisp ID badges, but also encode data for proximity, magnetic stripe, and contact and/or or contactless technology cards, such as HID iCLASS®, for increased access control. The most popular DTC4500e options are available in our online store. If you need more complex options, like smart card encoding, contact an ID Expert at 877-868-0012 today!
· Optional field upgradeable card lamination – For the ultimate in high-security ID badges, Fargo DTC4500e features an optional lamination module that applies over laminates to produce tamper-proof, secure cards that resist forgery. The unique, high speed dual-sided simultaneous lamination module saves valuable time. Not sure that you need lamination now? The DTC4500e lamination module can be added later!
· Easy integrated into existing IT infrastructures: With built-in standard Ethernet and USB connection, the DTC4500e allows for centralized or remote ID card issuance. Add a WiFi Accessory module to your DTC4500e so you can print from anywhere, anytime!